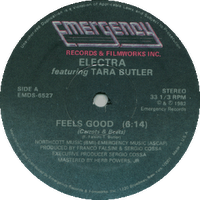 Så vänta, nu är vi uppe i att det är en coverremix av en coverremix av en cover på en låt mest känd i sin remixversion, med grunder från en låt som i sin tur baserades på en annan?
Jag talar alltså om att
The Very Best-Esau nu lagt lite sång
ovanpå The xx version av Florence + the Machines "You Got the Love", som i orginal gjordes av Candi Staton, men sedan remixades av The Source, som använde Jamie Principles / Frankie Knuckles "Your Love" (ursprungligen producerad av Mark "Hot Rod" Trollan), som i sin tur lånade från
"Feels Good (Carrots and Beets)" av Electra
.
Det som saknas nu är ju att Candi Staton bjuds in på lite sång. Eller att Knuckles gör house av det hela. Men allra helst att någon letar rätt på italienarna bakom Electra och knyter ihop säcken.