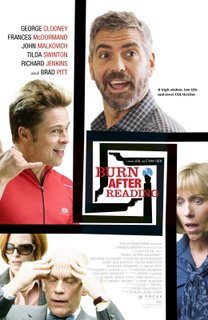 I vissa sammanhang när jag säger att jag tycker om "The Big Lebowski" känner jag mig tvingad att lägga till att det inte bara är någon allmän vurm för den som citatgenererande kultfilm. Att jag visserligen har kläckt ur mig några "Hey man, there's a beverage here!", men att jag också gillar den på djupare plan.
Det jag tycker mest om, och det här är det jag brukar känna mig tvingad att förklara för att visa vilken analytisk person jag är, är inte hur handlingen slingrar sig framåt mellan illrar och bowlingmatcher.Det är att alla personer inte bara har fått egna sätt att tala, utan också tar till sig av varandras uttryck under tiden. Hur the Dude helt plötsligt säger "in the parlance of our time", det är en lysande detalj.
Joel och Ethan Coens nya "Burn After Reading" har en lika invecklad historia. Allt är på ett sluttande plan, ständigt på väg åt helvete, utan att någon vet varför, alla agerar bara efter vad som är logiskt för dem själva. Och det är redan på så sätt ett fantastiskt manus.
Men att bröderna Coen dessutom har bemödat sig att mitt i allt det där, mitt i allt spionerandet, kärlekssökande, skilsmässoförberedande, allt som för handlingen framåt, att de mitt i allt det har försett personerna med små detaljer, det är det som gör att jag kanske fortfarande kommer babbla om "Burn After Reading" om tio år.
Som Harry (George Clooney), som har ett oförklarligt intresse för parkettgolv. Det ges ungefär två sekunder av filmen, följs aldrig upp. Det är bara en detalj som i sämre filmer inte hade varit med.
Så förlåt mig om nästa gång jag kommer hem till er, om jag då stampar lite lätt i parketten och frågar "Is this Forbo?"