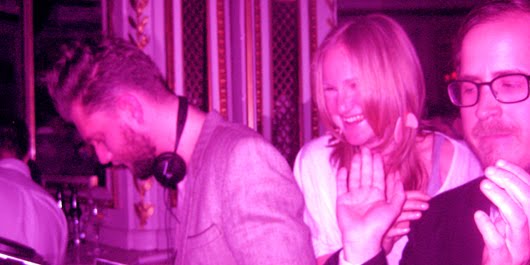 Tack för igår! En lysande natt i Gubbrummet! Tack till Tom som bokade oss och till alla som kom! Tack till Anna som åtgärdade ljudet! Och grattis till Per som fyllde år!
Vi spelade Elvis Costello, Orpheus, Beach Boys, Dusty Springfield, Kylie Minouge, Cornelius, Pizzicato Five, Eggstone, Handsome Boy Technique, Air France, Embassy, Barret Strong, The Flirtations, The Darlettes, minst tre låtar av Stereolab, både Moloko och Roísín Murphy, Broadcast, Teddy Pendergrass, Soul II Soul, The Mamas & The Papas, The Carpenters, Sugababes, Étienne Daho, Tracey Thorn, Xploding Plastics, Michel Polnareff, Gene Page, Joe Smooth, The Zombies, Isley Brothers, Jigsaw, Todd Rundgren, The Cookies, Bobby Reed och en massa annat.
Och så klart "He's on the Phone", "You're in A Bad Way", "Action", "Only Love Can Break Your Heart", "I Buy American Records", "Stars Above Us", "Filthy", "Lose That Girl", "Pale Movie", "Hug My Soul", "Tomorrow Never Dies", "Heart Failed (In the Back of A Taxi)", "Method of Modern Love" och en massa annat av Saint Etienne.
Så det allra viktigaste tacket går till Sarah, Pete och Bob!