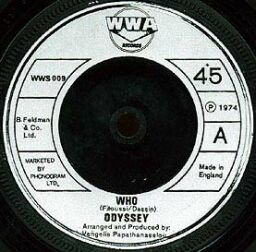 Odyssey - "Who" (Dirty Soundsystem Edit) 1974
Demis Roussos - "I Dig You"
Vangelis & Chrisma - "U"
Hjälp mig! Vad sjunger de egentligen i den här låten?
"I like the way you deee, I like the way that you daaa"?
För att ni verkligen ska kunna lyssna efter riktigt noga så får ni tre versioner. Jo, de heter olika, men det är samma låt som spelats in i olika Vangelis-relaterade sammanhang.
Är det bara nonsensord eller är det kassa sydeuropéer (greker resp. italienare) som inte kan engelska?
För mig låter det väldigt mycket som
"I like the way that you die"
. Och det är ju plain sick. Eller så sjunger de
"I like the way that you dye"
, vilket självklart är trevligare, men vem blir upphetsad av att se sin älskling färga något?
Den här sidan
gissar friskt, på ord som
"dive"
och
"jive"
och
"deep"
. Observera att de dock inte placerat några hakparenteser för att markera osäkerhet kring textraden
"You make me really feel like dying"
. Den känns ju helt naturlig.
Bonusinfo: en viss Richelle Dassin är ansvarig för texten. Musiken skrevs av Robert Fitoussi, mer känd som F.R. David när han hade en hit med "Words" 1982.