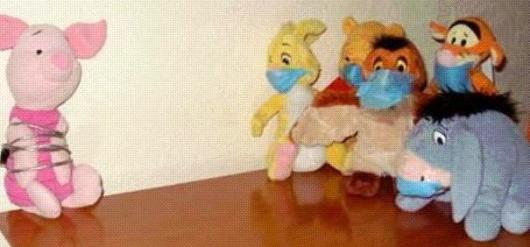 Årets doft är inte någon dyrbar parfym från något exklusivt modehus. Årets doft är handsprit. Den verkliga arbetsmiljörisken på mitt kontor har inte varit smittan, utan stanken av desinfektion.
Svininfluensan fick oss att göra helt nya saker. Vi började handsprita oss till och med på
krogtoaletter
. Som om man över huvud taget borde trängas i en bar om man vill undvika att få influensa.
En annan helt ny sak var att Jens Lekman fick plats på kvällstidningarnas löpsedlar, efter att han i juni skrivit i
sin blogg
om hur han fått svinet i Sydamerika.
"Peoples eyes were kind but determined, they read 'Poor you, I really wish you all the best but if you come near me or my kid I will have to stab you with this plastic fork'."
Men en sak var precis som vanligt. Vi svenskar fick tillfälle att klaga på vårt välfärdssystem ("när kommer det där vaccinet egentligen?" och "köerna till sprutan var ju Sovjetlånga!") och samtidigt vara stolta över det ("i Frankrike, där har dom inte ens börjat vaccinera"). Den är väl i princip en nationaltradition, den schizofrenin. Mot den hjälper inga mängder handsprit.